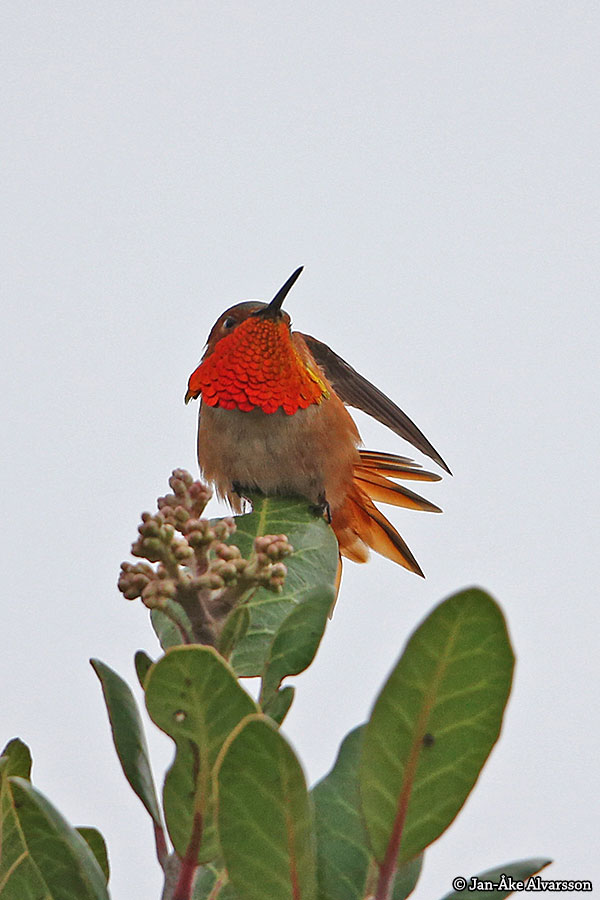 Selasphorus sasin
Allen's hummingbird / Allens kolibri
After the bird trip with Rockjumper was over, I was picked up by my good friend Jane in Pasadena. She took me home and I stayed with her and her husband Pepe for a week. This week was divided between their wonderful fireplace (it was winter in California and unusually cold) and bird watching with Jane. In the garden they had, in addition to plants with berries and seeds, two bird feeders and a nectar feeder for hummingbirds. Naturally, these facilities attracted birds. So I could stand inside the house and photograph species after species through the patio door. This hummingbird perched on a bush and I followed it in the lens. When it twisted slightly, I suddenly got just the right light angle for the iridescent red color of the throat to become visible. A second later, when it moved again, the red color was gone and replaced by a dull brown nuance.
Efter att fågelresan med Rockjumper var avslutad hämtades jag av min goda vän Jane i Pasadena. Hemma hos vännerna Jane och Pepe i San Diego bodde jag sedan en vecka - delad mellan deras sköna brasa (det var ju vinter i Kalifornien och ovanligt kallt) och fågelskådning tillsammans med Jane. I trädgården hade de, förutom växter med bär och frön, två fågelbord och en automat med sockervatten för kolibris. Dessa lockade förstås till sig fåglar. Jag kunde alltså stå inne och fotografera art efter art genom altandörren. Den här kolibrin vrider en aning på sig och får precis rätt ljusvinkel för att den röda färgen på haklappen ska synas. En sekund senare, när den rört sig igen, är den röda färgen borta.