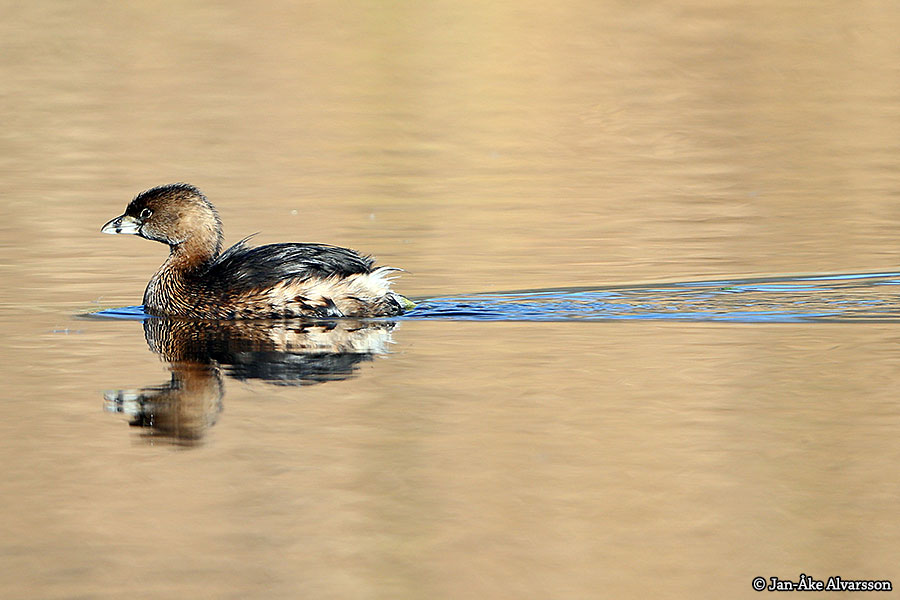 Podilymbus podiceps
Pied-billed grebe / Tjocknäbbad dopping
The Pied-billed grebe is a compact little grebe which, however, is larger than it seems at a distance (clearly larger than, for example, the Little grebe, Tachybaptus ruficollis). It subsists by diving for small animals such as insects, crustaceans and small fish. This individual in the port of San Diego exhibits the characteristic vertical black stripe across the bill - the feature that has given it its English trivial name: Pied-billed grebe.
Den tjocknäbbade doppingen är en kompakt lite dopping som dock är större än den verkar på håll (klart större än t.ex. en smådopping, Tachybaptus ruficollis). Den lever på att dyka efter smådjur som insekter, kräftdjur och småfisk. Den här individen i San Diegos hamn visar upp det karaktäristiska svarta tvärstrecket på näbben som gett arten dess engelska trivialnamn "svart-vit-näbbad dopping".