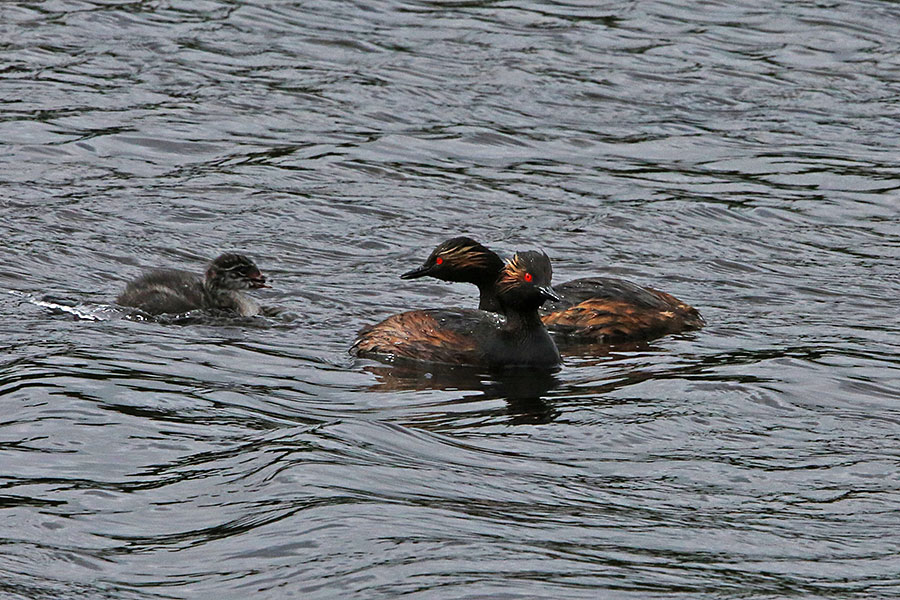 Podiceps nigricollis
Black-necked [Eared] grebe / Svarthalsad dopping
I have been at the lake Hornborgasjön many times to see and possibly take photographs of the Black-necked grebe (or the Eared grebe) - one of the rarest birds of Sweden - but so far without success! It is usually claimed that there are only 40 pairs at Hornborgasjön - and possibly in the whole of Sweden... I have pictures of this speices from Africa - in the almost black and white winter plumage - but this was the first time ever in Sweden and in breeding plumage. Furthermore, I was lucky to capture a moment of feeding in this little grebe family!
Här vid Hornborgasjön har jag varit många gånger för att möjligen se och få fotografera en av Sveriges absolut mest sällsynta fågelarter, den svarthalsade doppingen - men utan framgång! Det sägs ofta att det endast finns ett 40-tal häckande par här - och kanske är detta enda stället i Sverige den svarthalsade doppingen häckar! Jag har bilder från Afrika - i den närmast svartvita vinterdräkten - men det här är första gången jag kan fotografera den i Sverige och i sommardräkt! Dessutom kunde jag ju dokumentera matning i den lilla doppingfamiljen!