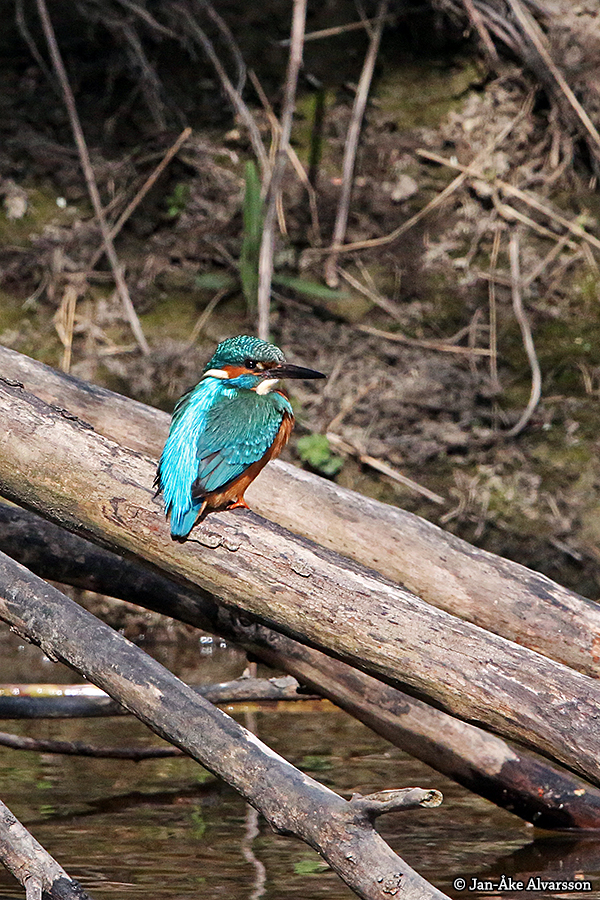 Alcedo atthis
Common kingfisher / Kungsfiskare
All "kingfishers" belong to the same bird family (Alcedinidae). They all have a compact body, big head, long, sharp bill, short legs and a short tail. They have good vision both in air and under water as the lens in their eyes has an egg shape that makes it possible to focus in the two different environments. There are many species and they are globally distributed and occur both in forest environments and by water. Most species are found in tropical areas, in our part of the world we only have a few species, the most widespread in Northern Europe and North America being our Common Kingfisher (Alcedo atthis). This species always lives near water, hunting small fish, but also crayfish, small frogs and insects. The kingfisher excavates its nest in a clay bank on a slow running river. The entrance to the nest can be up to one meter long and the eggs are laid on a bed of fish bones.
Alla "kungsfiskare" tillhör en och samma fågelfamilj (Alcedinidae). De har alla kompakt kropp, stort huvud, lång, vass näbb, korta ben och kort stjärt. De har god syn både i luft och under vatten då linsen i deras ögonhar en äggform som gör det möjligt att fokusera i de två olika miljöerna. Det finns många arter och de är globalt spridda och förekommer såväl i skogsmiljö som vid vatten. De flesta återfinns främst i tropiska områden, i vår del av världen har vi bara ett fåtal arter, den mest utbredda i norra Europa och Nordamerika är vår 'kungsfiskare' (Common kingfisher Alcedo atthis). Denna lever alltid i närheten av vatten, jagar småfisk, men även kräftor, små grodor och insekter. Kungsfiskaren gräver ut sitt bo i en lerbank vid en lugnt flytande å. Gången in till boet kan vara upp till en meter lång och äggen läggs på en bädd av fiskben. Gemensamt för alla kungsfiskare är att de slår ihjäl sitt byte genom att slå det mot en hård yta som en trädgren eller en sten.