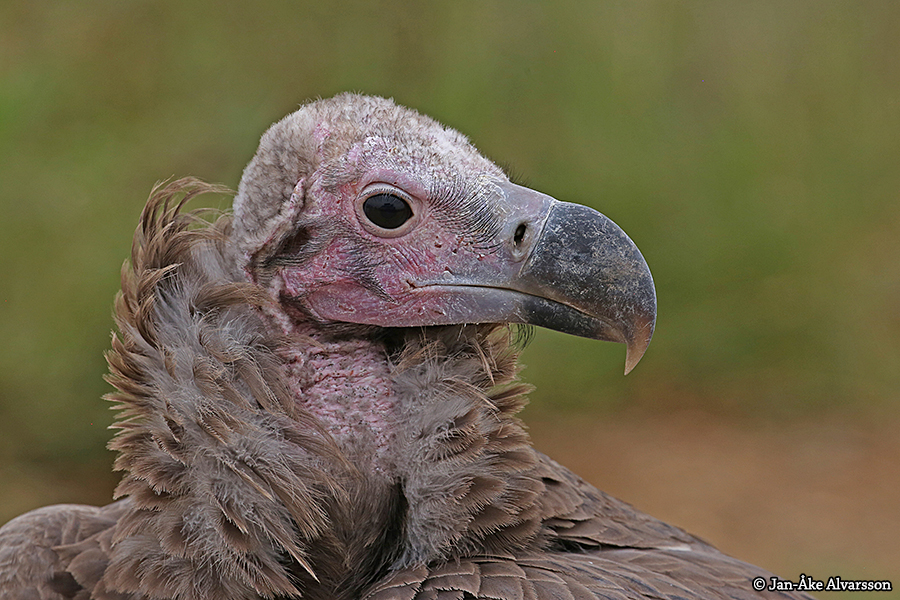 Torgos tracheliotos
Lappet-faced [Nubian] vulture / Örongam
My first real close-up of a Lappet-faced vulture (also called Nubian vulture), one of the biggest vultures and perhaps the most endangered one. Unfortunately, it is diminishing in almost every habitat. The "crew cut" head and the bare cheeks make it easier for the vulture to clean itself after eating off carcasses. The Lappet-faced vulture is happy with all kinds of food, everything from dead elephants to eggs from smaller birds. It seems that, in addition to being a carrion-eater, it also hunts its own prey, some as large as impala calves ...
Min första verkliga närbild av en örongam, en av de största och kanske mest hotade gamarna. Den minskar tyvärr på nästan alla håll. Det "snaggade" huvudet och de bara kinderna underlättar för gamen att hålla sig ren efter att ha ätit av as. Örongamen håller för övrigt till godo med allt från självdöda elefanter till ägg från mindre fåglar. Det tycks som att den, förutom att vara asätare, även jagar egna byten, en del så stora som impalakalvar...