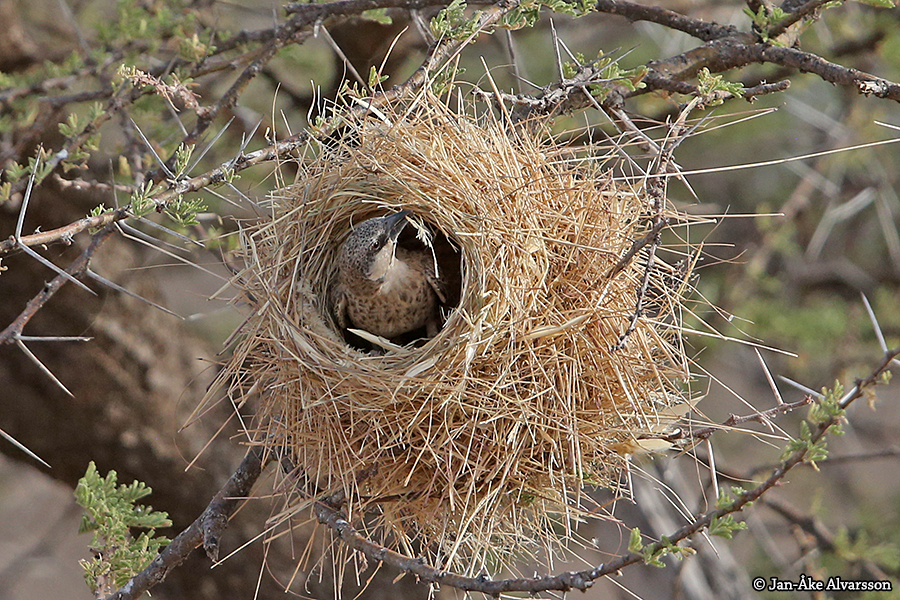 Plocepasser donaldsoni
Donaldson-Smith's sparrow-weaver / Vitkindad sparvvävare
This is a Donaldson-Smith's sparrow-weaver building on its nest in Samburu. This sparrow-weaver is 17 cm (6.5 in) long and builds a circular, slightly flimsy nest in thorny shrubbery. Its forehead and crown are scaly, dark brown with creamy white cheeks. The species is found in dry areas, mainly in central and northern Kenya and adjacent areas. It subsits on seeds and insects.
Det här är en vitkindad sparvvävare som bygger på sitt bo i Samburu. Denna sparvvävare är 17 cm lång och bygger ett cirkelrunt, litet slarvigt bo i taggiga buskträd. Namnet är något missvisande eftersom kinderna är mera gräddvita än vita. Arten återfinns i torra områden, företrädesvis i centrala och norra Kenya samt angränsande områden. Den lever på frön och insekter.