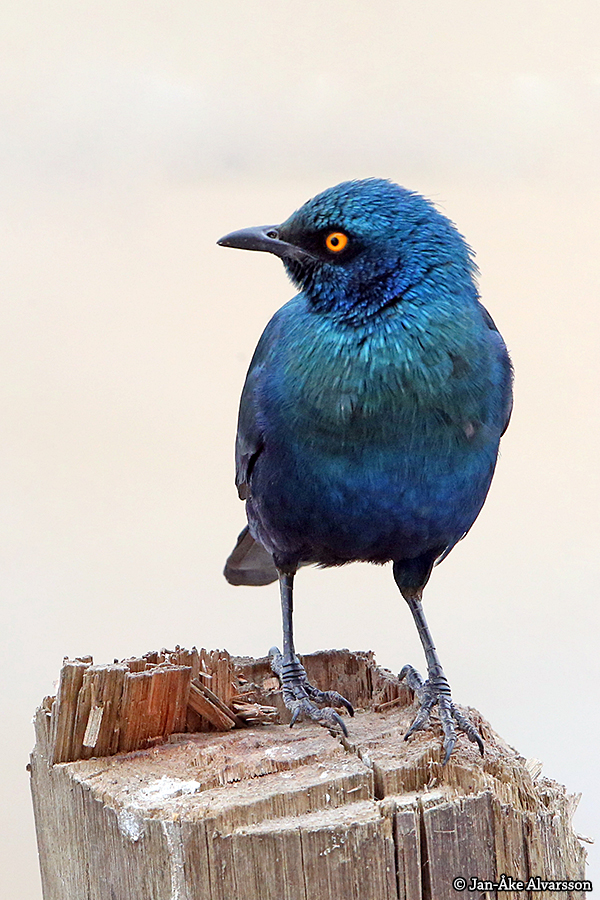 Lamprotornis chalybaeus
Greater blue-eared glossy starling / Blåkindad glansstare
The Greater blue-eared glossy starling is actually a fairly large starling (21-24 cm), but with a relatively short tail. It is distributed in a belt right across Africa, from Senegal to the west, to Ethiopia to the east, and in a field south from Ethiopia, down to northern Namibia and north-eastern South Africa. The "blue ear" that gave the species its name in English is not always discernible, but you can actually discerned it in this picture, a darker patch, slightly to the right, below the brilliant orange eye. This species subsists on a combination of fruits and insects, and sometimes forages from the backs of cattle. It builds its nest in tree cavities or old woodpecker nests, but it also happens that it settles inside the large stick nests of birds like the Sacred ibis.
Den blåkindade glansstaren är faktiskt en ganska stor glansstare (21-24 cm), men med relativt kort stjärt. Den förekommer i ett bälte tvärs över Afrika, från Senegal i väster till Etiopien i öster, samt i ett fält söderut från Etiopien, ner till norra Namibia och norddöstra Sydafrika. Den "blåa kinden" som gett arten dess namn är inte alltid urskiljbar, men kan faktiskt skönjas på den här bilden, snett nedanför det starkt lysande, orangea ögat. Den lever på en kombination av frukt och insekter och födosöker ibland från ryggen på kreatur. Den bygger bo i trädhålor eller gamla hackspettsbon, men det händer också att den utnyttjar större fåglars bon, och bosättter sig inne i kvistverket hos t.ex. helig ibis.