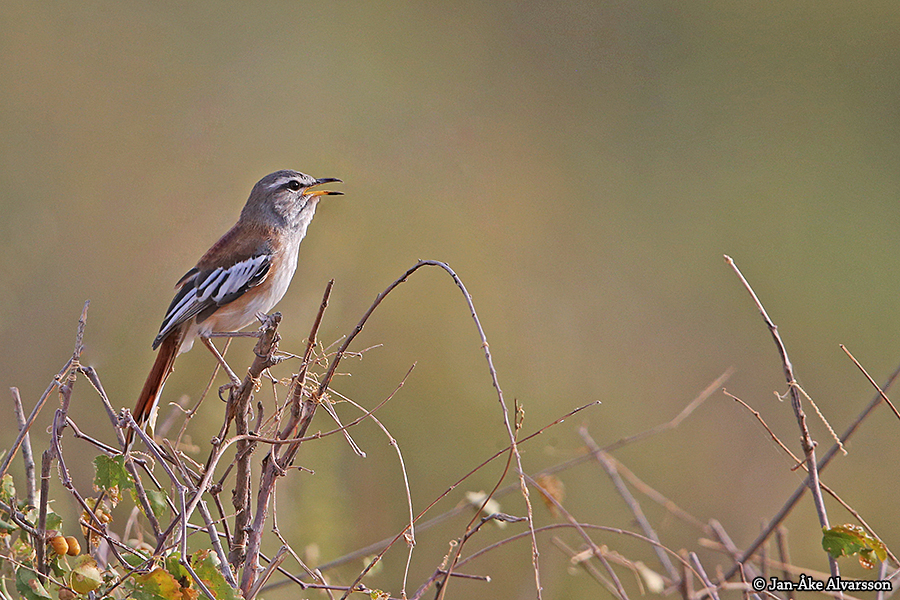 Cercotrichas leucophrys
White-browed [Red-backed] scrub robin / Vitbrynad trädnäktergal
This White-browed scrub robin, (also called the Red-backed scrub robin), produces its thrush-like song, and fluttering its tail, from the top of a bush. This is a restless and shy species. It is a medium-sized scrub robin (14-16 cm) with a grayish head, a broad, white supercilium and a brown-reddish back that turns into warm rufous on the tail. It subsits on invertebrates, especially termites and ants. The female builds the nest of dry grass, the heart of a grass tuft. She lays three eggs and then broods alone. The male and female, however, take turns in breeding the chicks. The species is one of the more common scrub robins in East Africa.
Den här vitbrynad trädnäktergalen framför sin trastlika sång och fladdrar med stjärten i toppen av en buske. Detta är en rastlös och skygg art. Det är en medelstor trädnäktergal (14-16 cm) med gråaktigt huvud, vitt ögonbrynsstreck och en rödaktiga rygg som övergår i varmt rostrött på stjärten. Den lever på ryggradslösa djur, särskilt termiter och myror. Honan bygger ensam boet av torrt gräst, mitt i en kraftig tuva. Hon lägger tre ägg och ruvar sedan ensam. Hannen och honan delar dock på uppfödningen av ungarna. Arten är en av de vanligare trädnäktergalarna i Östafrika.