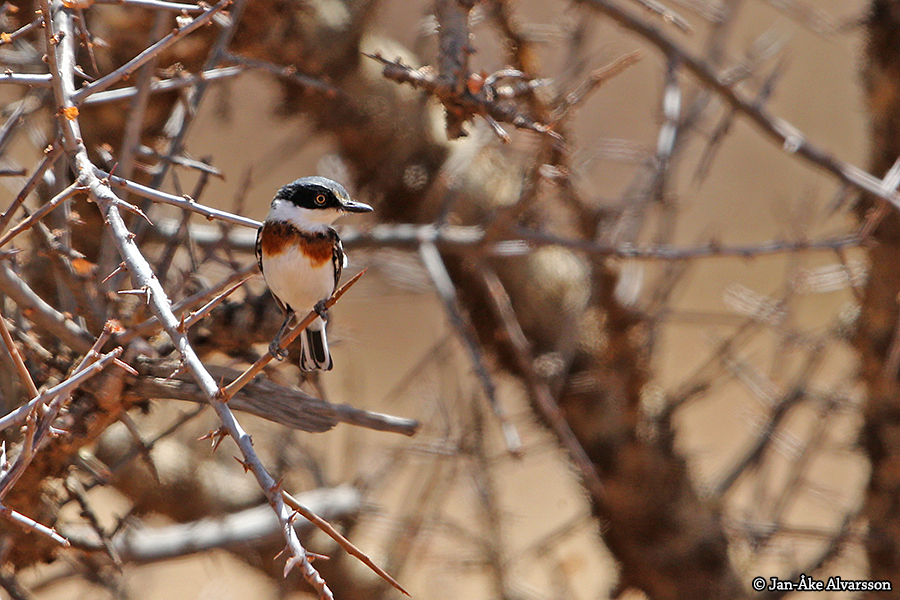 Batis perkeo
Pygmy batis / Dvärgbatis
It is not so often in the bird world that the female is more colorful than the male. But in the Pygmy batis, this is actually the case! It is an amazing little bird, only 8-9 cm long. It is somewhat similar to a flycatcher in appearance. It has a gray-blue head, a black face mask and a white chin. The eyes are bright yellow. The male is completely black and white, with a black breast band while the female has an orange-brown breast band! It is tree-active and picks insects from leaves and branches. It occurs in Kenya and adjacent parts of neighboring countries and Samburu is a good place to see it! Of course I was very happy to get this photo - and of a female!
Det är ju inte så ofta i fågelvärlden att honan är mer färggrann än hannen. Men hos dvärgbatis är det faktiskt så. Det är en anslående liten fågel, bara 8-9 cm (alltså lika liten som - eller mindre än - Sveriges minsta fågel, den brandkronade kungsfågeln). Den är flugsnapparlik med gråblått huvud, svart mask och vit haka. Ögonen är starkt gula. Hannen är helt svartvit med ett svart bröstband medan honan har ett orange-brunt bröstband! Den är trädaktiv och plockar insekter från löv och grenar. Den förekommer i Kenya och angränsande delar av grannländerna och Samburu är en bra park att se den i! Jag blev givetvis mycket glad över att få det här fotot - på en hona!