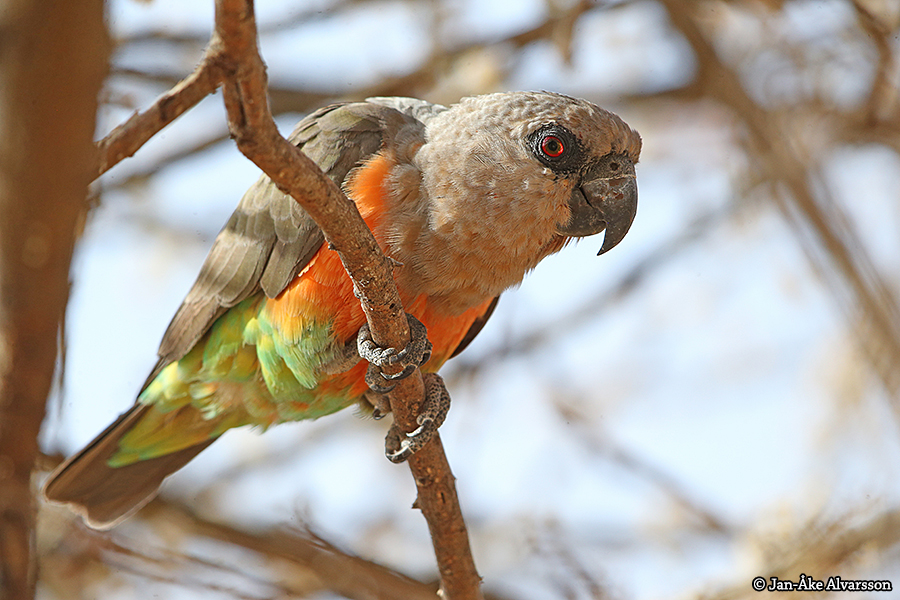 Poicephalus rufiventris
Red-bellied [African orange-bellied] parrot / Rödbukig papegoja
We saw it at quite a distance, the Red-bellied parrot. We approached it slowly with the jeep and I took series after series of pictures. But the parrot stayed put - to my great surprise. It simply seemed curious about what happened. The name 'Red-bellied parrot' is possibly a good translation of the Latin 'rufiventris' but it is hardly correct. The abdomen is clearly orange (and an alternative name in English is precisely 'African orange-bellied parrot'). However, it is only the male (as in the picture) that has an orange-colored belly. The female is completely green on the abdomen, with just an orange patch under the wing, hardly visible when the bird is perched. The bird arranges its nest in tree holes and subsits on a diet of tree fruits, berries and seeds.
Vi såg den på ganska långt håll, den rödbukiga papegojan. Vi närmade oss sakta med jeepen och jag tog bildserie efter bildserie. Men papegojan satt till min stora förvåning kvar. Den verkade helt enkelt nyfiken på vad det var för något den hade framför sig. Som synes är namnet rödbukig papegoja möjligen en bra översättning av det latinska 'rufiventris' men knappast korrekt. Buken är ju tydligt orange (och ett alternativt namn på engelska är ju just 'orange-bukig papegoja'). Nu är det ju så att det enbart är hannen (som på bilden) som har en orange-färgad buk. Honan är nämligen helt grön på buken, med bara ett orange fält under vingen, knappast synligt när fågeln är sittande. Fågeln ordnar sitt bo i trädhålor och lever på en diet av trädfrukter, bär och frön.