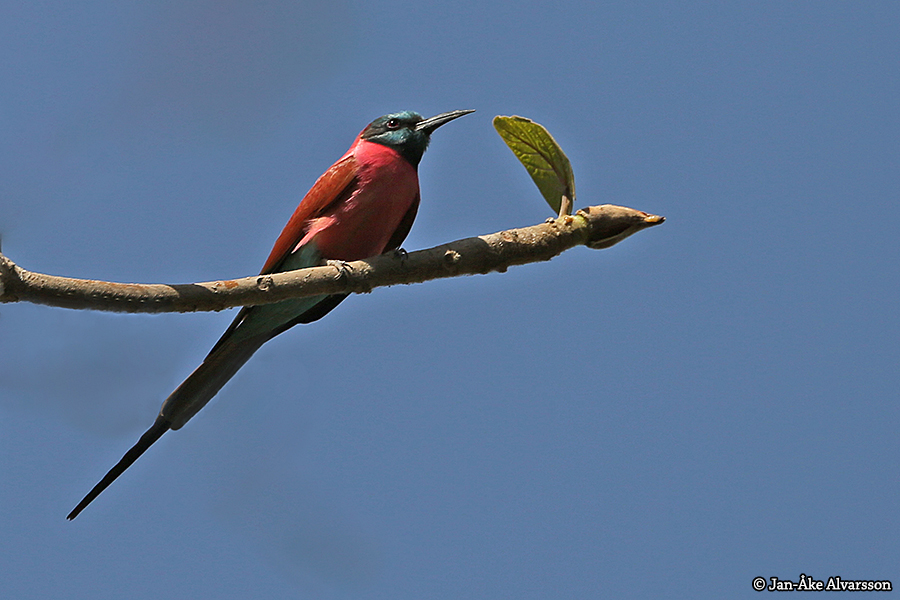 Merops nubicus
Northern carmine bee-eater / Nordlig karminbiätare
One of the birds I remember most clearly from my first visit to Ethiopia, just over 20 years ago, is the Northern carmine bee-eater. Last year I photographed its southern relative (the Southern carmine bee-eater) in Botswana and now I was fortunate enough to encounter a small flock of the 'northerners' jut by Lake Awassa. The angle of the photograph also highlights the most obvious difference in relation to the Southern carmine bee-eater. Both are carmine colored, with long tails, but it is in the area around the throat that the two species differ. While the southern variant has a carmine-colored chin and only the upper part of the head is blue-green, the northern species has an olive-green area under the chin that results in the head as a whole being perceived as blue-green. Like its southern relative, it nests in colonies. The nest is excavated in embankments and river banks. Like all bee-eaters, it subsits mainly on insects: e.g. grasshoppers, locusts and bees.
En av de fåglar jag tydligast minns från mitt första besök i Etiopien, för drygt 20 år sedan, är den nordliga karminbiätaren. Föregående år fotograferade jag ju den sydliga släktingen i Botswana och nu hade jag turen att stöta på en liten flock av de 'nordliga' invid Lake Awassa. I vinkeln på fotografiet framhävs också den mest tydliga skillnaden gentemot den sydliga karminbiätaren. Båda är ju karminfärgade med långa stjärtspröt, men det är i området runt strupen som de två arterna skiljer sig åt. Medan den sydliga har en karminfärgad haka och endast övre delen av huvudet är blågrönt har den nordliga arten ett olivgrönt område under hakan som resulterar i att huvudet som helhet uppfattas som blågrönt. Som sin sydliga släkting häckar den i kolonier. Boet grävs ut i vallar och flodbankar. Den lever, som alla biätare, huvudsakligen på insekter: t.ex. gräshoppor, syrsor, bin och steklar.