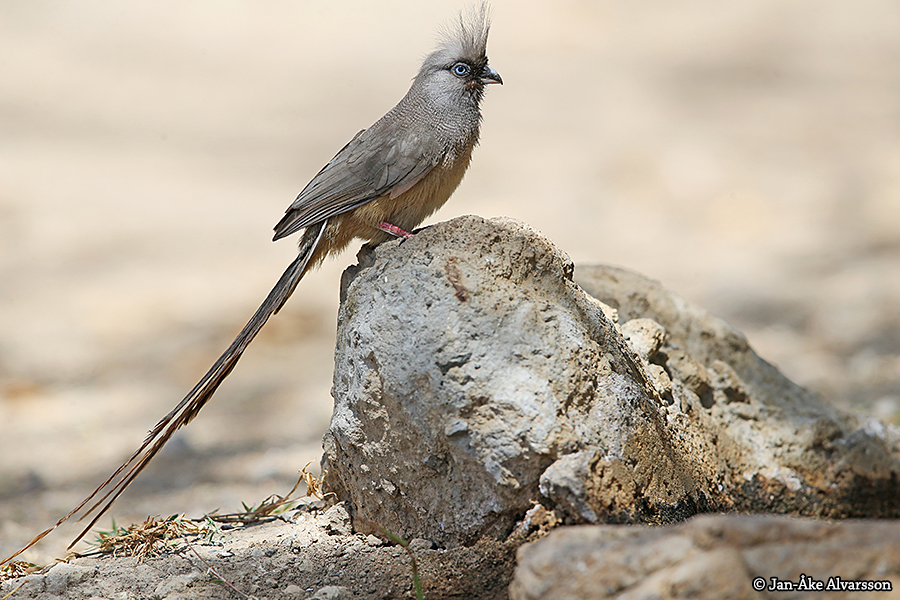 Colius striatus
Speckled mousebird / Vitkindad musfågel
The first bird I saw at the waterhole near the hotel was this extremely long-tailed, Speckled mousebird. For this subspecies (leucotis) the English term "speckled" is very apt as the upper part of the body is clearly 'speckled'. It is probably the most common and one of the largest mousebirds. It subsists on fruits, berries, leaves, seeds, and nectar, and is found in many biotopes except in the driest areas or rainforest. This species is special not only because of the long tail, it is also very social. Couples bathe and forage together and yearlings often help their parents to breed a new litter.
Den första fågel jag såg vid vattenhålet nära hotellet var den här extremt långstjärtade, vitkindade musfågeln. För den här underarten (leucotis) är väl inte det svenska namnet särskilt representativt. Den vita kinden är knappt urskiljbar (vilken den är i de flesta andra underarter). I det här fallet känns den engelska beteckningen, "spräcklig" ('speckled') bättre. Det är förmodligen den vanligaste och en av de största musfåglarna. Den lever på frukt, bär, löv, frön och nektar och återfinns i många biotoper utom i de allra torraste eller mest regnskogslika. Arten är inte bara speciell på grund av den långa stjärten, den är också mycket social och årsungar hjälper ofta sina föräldrar att föda upp en ny kull ungar.