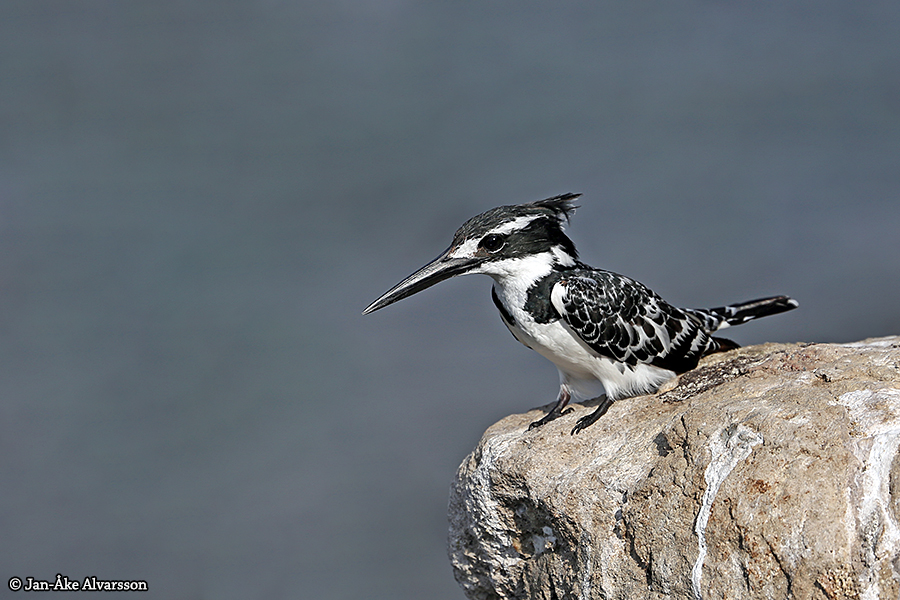 Ceryle rudis
Pied kingfisher / Gråfiskare
The Pied kingfisher is the world's third most common kingfisher and is found in four subspecies from Africa all the way to China. The male has a double band across the breast while females have a single gorget that is often broken in the middle, as on this picture. This female sat on a cliff in Lake Awassa, near a beach hotel with lots of guests, but didn't seem to be particularly disturbed by it. By the number of droppings, we may gather that this is a favourite lookout.
Gråfiskaren är världens tredje vanligaste kungsfiskare och förekommer i fyra underarter från Afrika ända bort till Kina. Hannen har dubbla svarta bröstband medan honan bara har ett - och då ofta ofullständigt, som på den här bilden, där bröstbandet är helt kluvet. Den här honan satt på en utkiksplats i Lake Awassa, nära ett strandhotell med mycket gäster, men verkade inte särskilt störd av det. Av mängden träck på klippan kan vi anta att detta är en favoritplats.