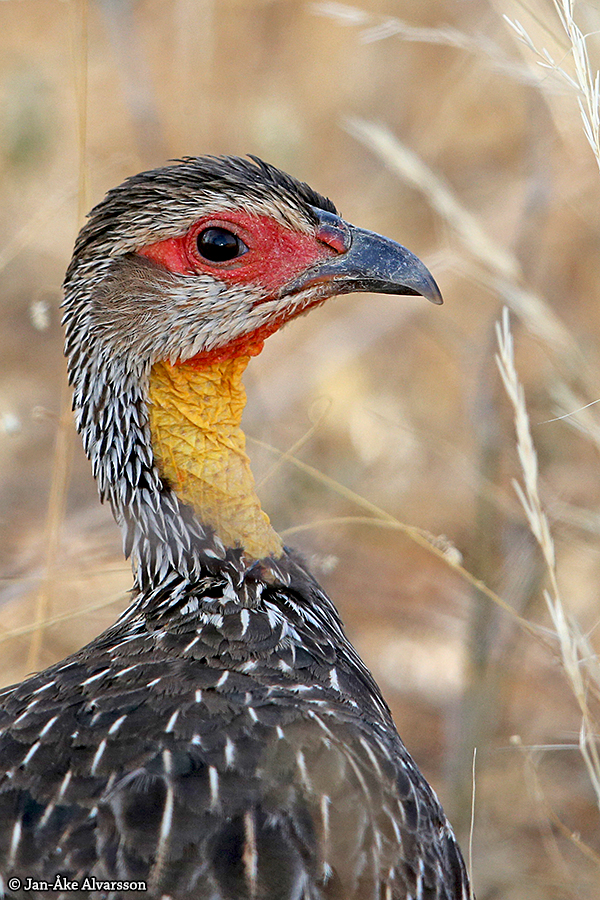 Francolinus leucoscepus
Yellow-necked [spurfowl] francolin / Gulstrupig frankolin
Francolins are birds of the pheasant family that subsist on plants and insects. This yellow-necked francolin is one of the largest francolin species in East Africa, measuring 33-40 cm. The male weighs nearly one kilogram, and has spurs on its hind legs, which has given it one of its English names ('spurfowl'). It is named after the yellow throat patch on its neck, which makes it unique (most other francolins have red throat patches). The male often sings from an elevation in the ground, e.g. a stone or a termite mound. The most important feature of this species' diet seems to be sedge tubers.
Frankoliner är ett slags fasanfåglar som lever på vegetabilier och insekter. Den här gulstrupiga frankolinen tillhör en av de största frankolinerna i Östafrika med sina 33-40 cm. Hannen väger nästan ett kilo och har har sporrar på bakbenen vilken gett den ett av dess engelska namn (jfr engelska 'spurfowl'). Den är namngiven efter den gula strupfläcken som gör den unik (de flesta andra frankoliner har röd strupfläck). Hannen sjunger ofta från en upphöjning i marken, t.ex. en sten eller en termitstack. Det viktigaste inslaget i just denna arts diet tycks vara rotknölar av starrgräs.