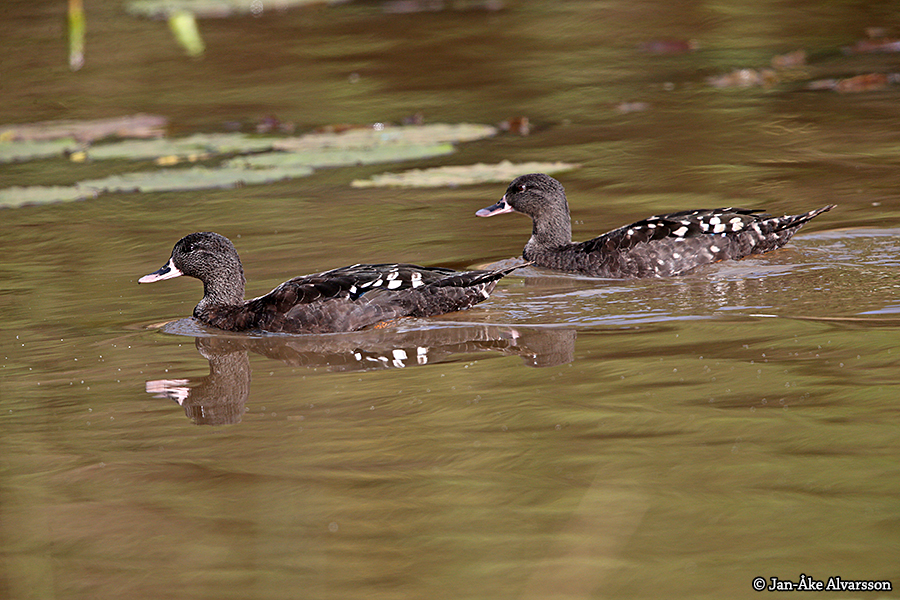 Anas sparsa
African black duck / Afrikansk svartand
This duck is special in several ways. It is widely spread, especially in eastern and southern Africa, but it is considered very shy and appears quite sparingly, often only in a couple or in a small group. In this little pool, we actually saw two pairs. Although it thrives in brooks, small creeks and small pools during the day, it often seeks open water for spending the night. It is quite closely related to the Mallard, it weighs around two pounds and measures 48-58 cm. It subists on aquatic plants, but also on various insects, especially larvae and pupae that it finds under rocks and stones.
Denna and är speciell på flera vis. Den är vitt spridd, framför allt i östra och södra Afrika, men den anses vara mycket skygg och uppträder ganska sparsamt, ofta bara i ett par eller i en liten grupp. I den här lilla vattensamlingen såg vi faktiskt två par. Trots att den trivs i bäckar, små åar och små vattensamlingar om dagen, söker den sig ofta till öppet vatten för övernattning. Den är ganska nära släkt med vår gräsand, väger runt ett kilo och mäter 48-58 cm. Den lever på vattenväxter men också på olika slags insekter, särskilt larver och puppor som den letar fram under stenar.