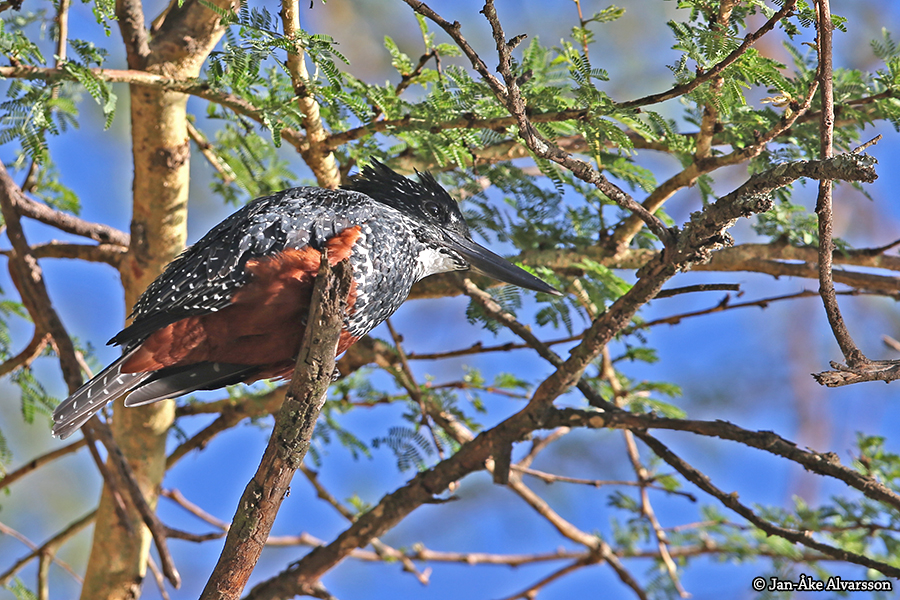 Megaceryle maxima
Giant kingfisher / Jättekungsfiskare
Giant Kingfishers are remarkable in several ways; first of course their size. They are more than twice as large (43 cm) as most other kingfishers. But the color switch between male and female is also most striking. When I compared my pictures of this species I almost started to rub my eyes in astonishment. The male has a chestnut breast band and otherwise white underparts with dark flank barring. The female features precisley the opposite! It has a white-spotted black breast band and a chestnut belly. With this description, the identification of the individual in the picture is quite simple: This is a female Giant kingfisher!
Jättekungsfiskare är märkliga på flera sätt; först naturligtvis deras storlek. De är mer än dubbelt så stora (43 cm) som de flesta andra kungsfiskare. Men färgväxlingen mellan hanne och hona är också slående. När jag jämförde mina bilder började jag nästan gnugga mina ögon av förvåning. Hannen var orangeröd på bröstet och vattrad i svartvitt nedtill. Honan var ju färgad precis tvärtom! Den var vattrad i svartvitt ovantill och rödbrun nedtill. Med den tydliga beskrivningen är identifieringen av individen på bilden enkel: Det är en hona av jättekungsfiskare!