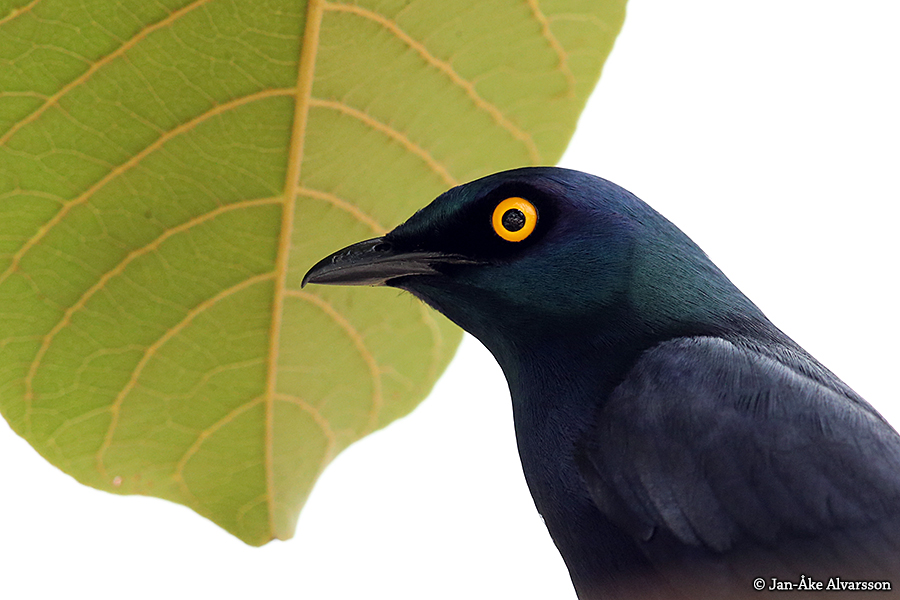 Lamprotornis corruscus
Black-bellied glossy-starling / Svartbukig glansstare
Last year, I identified and photographed Black-bellied starling on Zanzibar, but quite at a distance (and not very good pictures). Just this species occurs only along the coast of East Africa, and is progressively rarer when you move inlands. No other glossy starling is darker, and thus the contrast between the dark plumage and the intensely yellow eye is particularly clear - if uou are close enough. This time a couple landed in the hotel garden (they are often seen in pairs), and as I stood motionless (waiting for a Scarlet-chested sunbird), they came unusually close and I was able to take some quick pictures at an extremely short distance.
Förra året identifierade och fotograferade jag svartbukig glansstare på Zanzibar, men då på långt håll (och inte särskilt bra bilder). Just denna art förekommer ju endast längs kusten av Östafrika och är allt sällsyntare ju längre in på kontinenten man kommer. Ingen annan glansstare är mörkare, och därmed blir kontrasten mellan den mörka fjäderskruden och det intensivt gula ögat extra tydligt - på nära håll. Den här gången kom nämligen ett par ner i hotellträdgården (de ses ofta i par) och eftersom jag stod blick stilla (och väntade på en karminbröstad solfågel) så kom de ovanligt nära och jag kunde ta några snabba bilder på extremt kort avstånd.