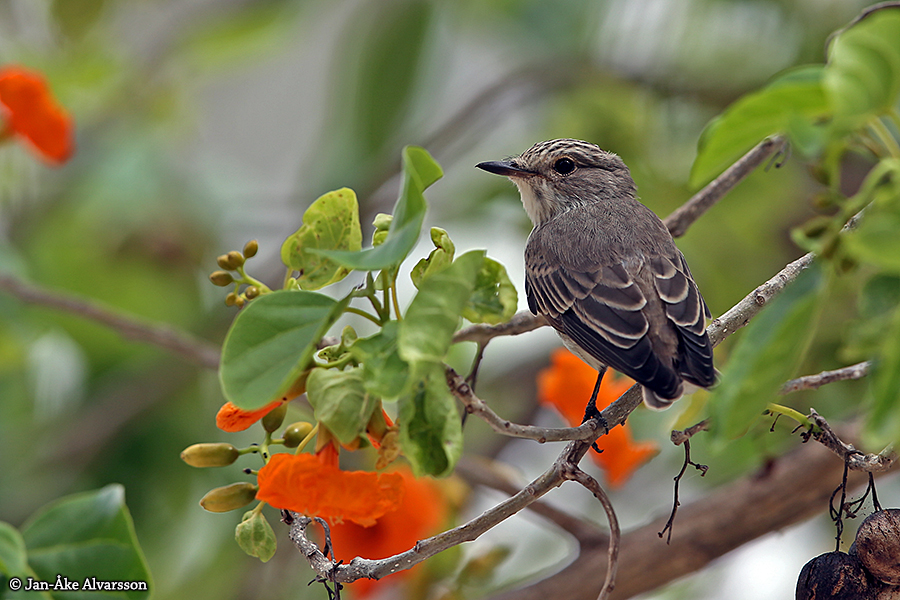 Muscicapa striata
Spotted flycatcher / Grå flugsnappare
Back in Uroa in Zanzibar after precisely one year. The species I saw last year were rarely seen. The African golden Weavers, e.g, had moved to the next hotel, maybe the service was better there ... A new - and yet familiar - species was the Spotted flycatcher that I have photographed so many times on my farm in Småland. This individual was probably the first bird I saw in the morning (we arrived late in the evening) and I was struck by the fact that it fared so well without tail feathers. Apparently, it was molting and had just lost those feathers...
Tillbaka i Uroa på Zanzibar efter precis ett år. Arterna jag såg förra året visar sig sällan. De afrikanska guldvävarna har flyttat till nästa hotell, kanske bättre service där... En ny - och ändå välbekant - art var den grå flugsnapparen som jag fotograferat så många gånger på min gård i Småland. Den här individen var nog den första fågel jag såg på morgonen (vi kom sent på kvällen) och frapperades av att den klarade sig så bra utan stjärtfjädrar. Uppenbarligen var den inne i en ruggningsperiod.