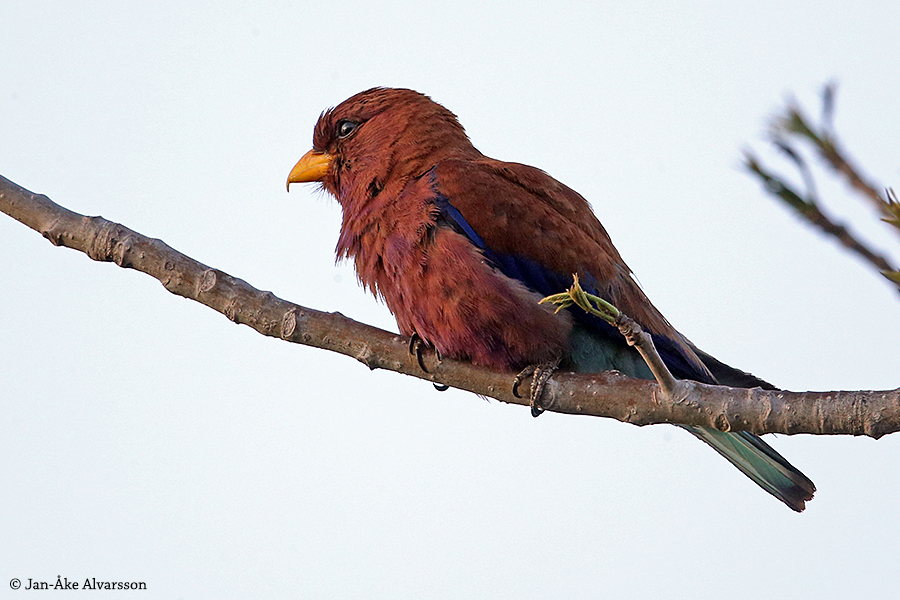 Eurystomus glaucurus
Broad-billed roller / Gulnäbbad blåkråka
Rollers are special creatures in my bird world. And this roller is among the most special ones... I photographed the first one in a garden in Stone Town on Zanzibar, but from afar. Here, in Uroa, I could catch it at close range, in the warm evening light. Both the English and the Swedish names give us clues as to its characteristics. The English name "Broad-billed roller" highlights the fact that its bill is surprisingly wide when viewed from the front. In Swedish the bird is called "Yellow-billed" roller and that fact is well illustrated in this image. (The yellow color of the bill is actually shared also with the much rarer Blue-throated roller).
Blåkråkor är speciella varelser i min fågelvärld. Och den här blåkråkan tillhör de mest speciella... Jag fotograferade den först i en trädgård i Stonetown på Zanzibar, men på långt håll. Här, i Uroa, kunde jag fånga den i det varma aftonljuset och på relativt nära håll. Både den engelska och den svenska beteckningen ger oss ledtrådar till dess karaktäristika. På engelska heter den "brednäbbad" blåkråka, och näbben är förvånansvärt bred när man ser huvudet framifrån. På svenska heter den "gulnäbbad" blåkråka och det illustreras i alla fall av denna bild. (Den gula färgen på näbben delar den faktiskt också med den betydligt sällsyntare Blåstrupiga blåkråkan).