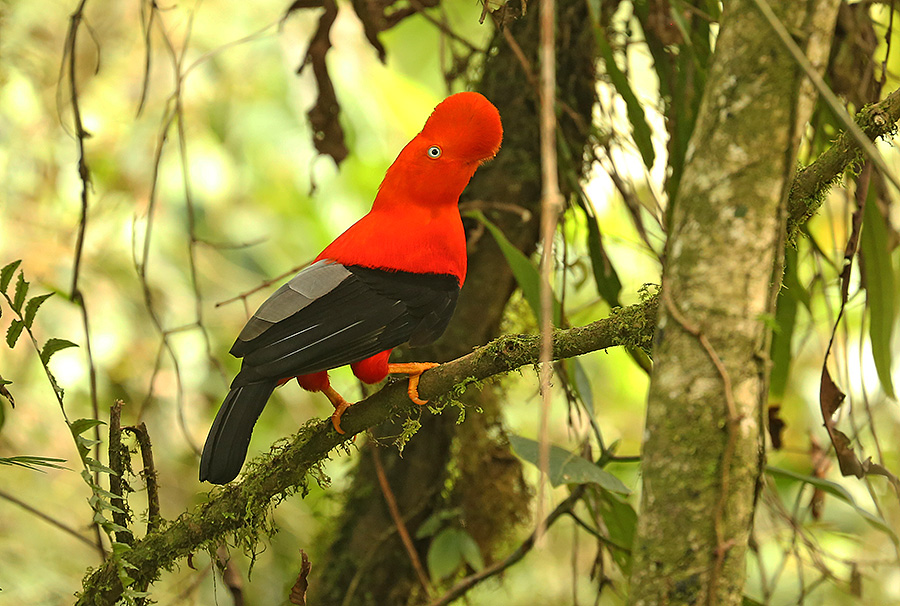 Rupicola peruviana
Andean cock-of-the-rock / Andinsk klippfågel
Portait of and Andean Cock-of-the-rock at the lek site that we visited. We spotted a single individual outside the lek area, but it is here that the cocks gather. At this site there were eventually six-seven cocks, but some sites may attract up to a dozen and almost as many hens. The lek takes place at a height of 2 to 6 meters, in high cloud forest with lots of branches entangled in lianas, and continues all the year round, although with varying intensity. The cocks bow, strut, and jump about, bills snapping and wings flapping. The grunting call rises when a hen appears.
Porträtt av en andinsk klippfågel på den spelplats vi besökte. Vi såg någon individ utanför spelplatsen, men det är där som tupparna samlas. På den här platsen samlades så småningom sex-sju tuppar, men vissa kan locka upp till dussinet tuppar och nästan lika många hönor. Spelen sker på 2-6 meters höjd, i högrest skog med grenar och lianer, och fortsätter med olika intensitet året om. Tupparna bugar, struttar omkring, fladdrar med vingarna och klapprar med näbbarna. Det knorrande lätet stiger när en höna anländer (inte helt olikt vår eget orrspel).