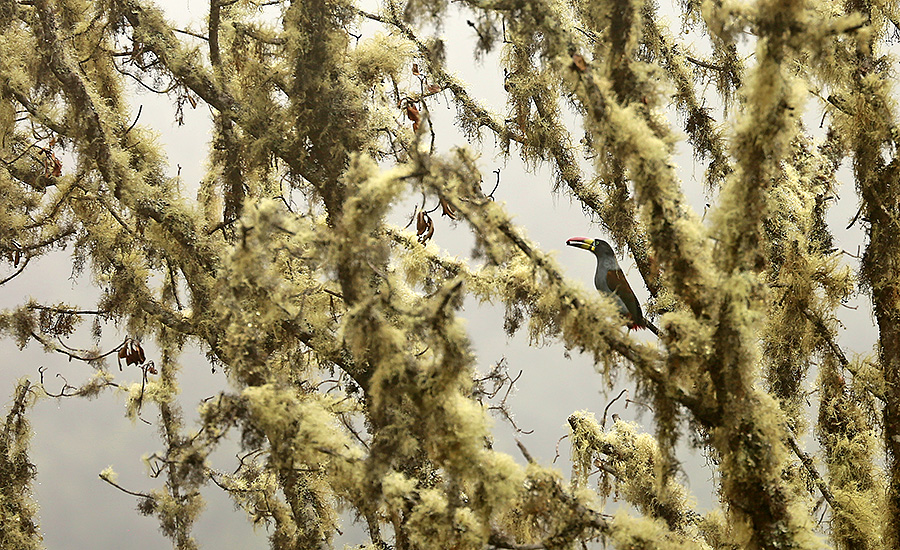 Andigena hypoglauca
Grey-breasted mountain-toucan / Gråbröstad bergtukan
Up in the montane cloud forest we stopped to have a look at a Hooded mountain tanager. But José Luís soon also discovered a Grey-breasted mountain-toucan. I came fairly close to it, but I had a problem getting "clean" pictures. There was always a branch or a twig in the way. So, when I decided on a picture to show, I chose this picture of the toucan at a distance, in a tree that fired my imagination, all covered with lichen...
Uppe i molnregnskogen stannade vi för att beskåda en svarthuvad bergtangara som vi sett från bilen. När vi sökt efter den en stund upptäckte José Luís en tukan, en gråbröstad bergtukan i ett träd en bit bort. Den hade ett svart bär i näbben, troligen för att uppvakta sin partner med. Jag kom relativt nära, men hade svårt att få "rena" bilder. Det var ofta någon gren i vägen. När jag skulle välja blev det därför en avståndsbild med fågeln i ett fantasieggande, lavatäckt träd...