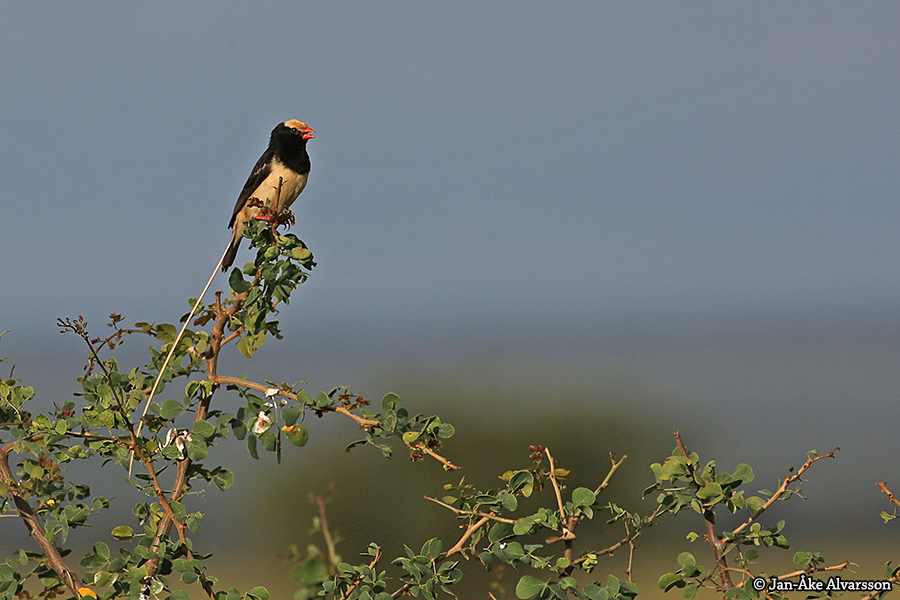 Vidua fischeri
Straw-tailed whydah / Stråstjärtad änka
January 26 became a "widow's day". On the same day, we could see (and photograph) Straw-tailed whydah, Steel-blue whydah, Pin-tailed whydah, and Eastern paradise-whydah. They are all characterized by their unusually long tail feathers, (although these come in different shapes). As the picture shows, the Straw-tailed whydah has an almost uniform, extremely long, white and slender tail.
Den 26 januari blev en "änkedag". På en och samma dag kunde vi nämligen se (och fotografera) stråstjärtad änka, praktänka, dominikaneränka och östlig paradisänka. Alla karaktäriseras de ju av sina oformligt långa stjärtfjädrar, men av olika snitt. Som vi kan se på bilden har den stråstjärtade änkan en närmast enformig, ytterst lång, vit och smal stjärt.