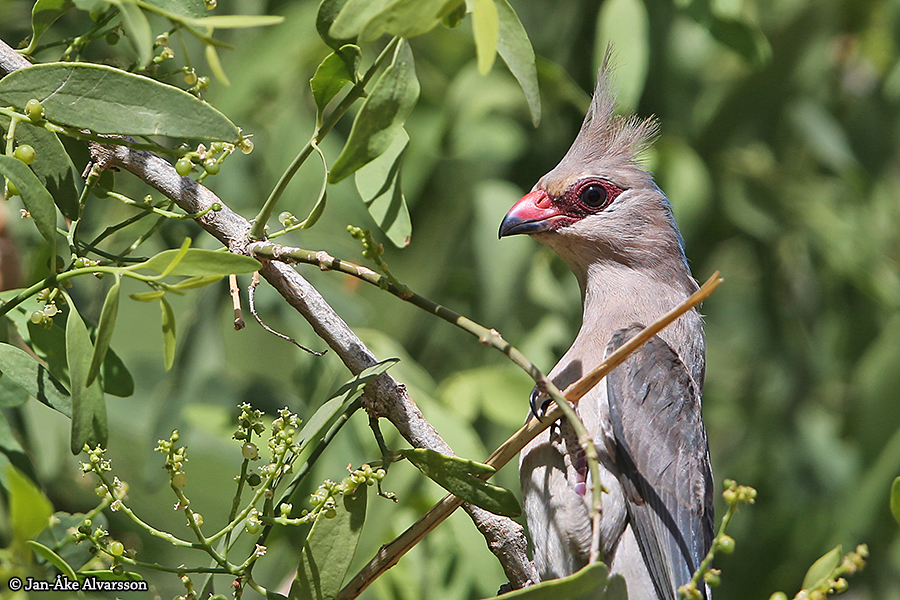 Urocolius macrourus
Blue-naped mousebird / Blånackad musfågel
The Mousebirds have gotten their name because they move in trees and shrubbery in a jerky and jumpy way, much like a mouse. The different species are usually gray-brown, thin, slender, and with an extremely long tail. They also always have a crested head and a strong bill. They subsist on tree fruits, berries, buds, leaves and flowers. This is a Blue-naped mousebird. In the picture you can distinguish the blue neck spot that has given it its name. You may imagine the opposing, powerful claws that allow this individual to hang in the thin branches and get access to the yellow-green berries. However, the characteristic red-black beak is clearly visible!
Musfåglarna har fått sitt namn på grund av att de rör sig ryckigt och hoppande i träd och buskar likt en mus. De olika arterna är dessutom oftast gråbruna, långsmala, och med en extremt lång stjärt. De har dessutom alltid en tofs på huvudet och en kraftig näbb. De lever på trädfrukter, bär, knoppar, löv och blommor. Det här är en blånackad musfågel. På bilden kan man ana den blåa nackfläcken som givit den dess namn. Man kan nog också ana de motstående, kraftiga klorna som gör att den här individen kan hänga i det tunna grenverket och komma åt de gulgröna bären. Den karaktäristiska rödsvarta näbben syns dock tydligt!