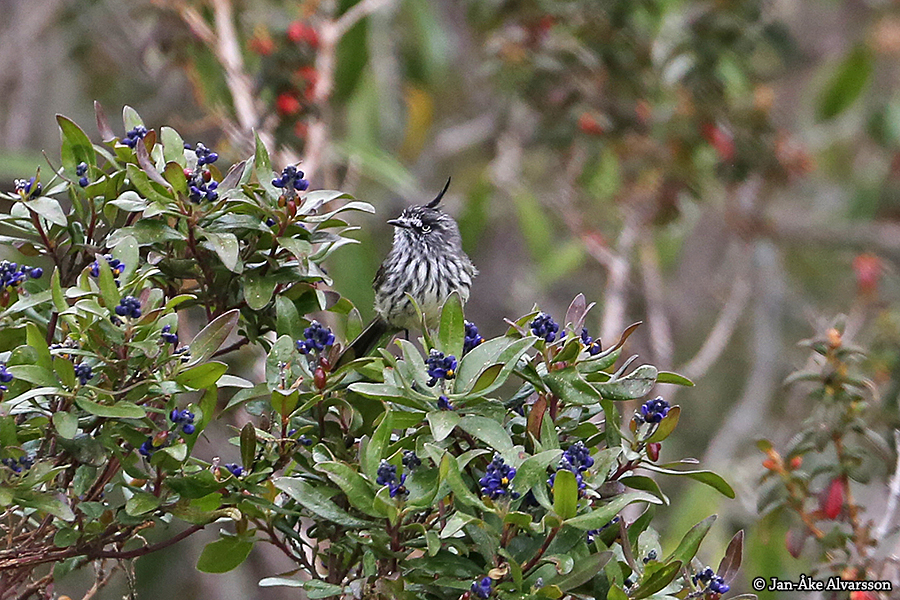 Anairetes parulus
Tufted tit-tyrant / Gulögd mestyrann
This small, tit-like bird (4") is difficult to photograph because, like many other little insectivores, it rapidly jumps from branch to banch, and in and out of shrubs and bushes. For a second, it actually stayed in this bush of blue berries. The distinctive crest (that has given it the name 'tufted' in English) is clearly visible in the picture, but not the yellow eye (which gave it its Swedish name, "yellow-eyed"). The very black pupil, however, is visible. This species seems very adaptive. It occurs all the way from southern Colombia, along the Andes, down to the Tierra del Fuego. It thrives up to the tree line in many areas and down to sea-level in the far south.
Denna lilla, mesliknande fågel (9,5 cm) är svårfotograferad eftersom den, som många andra små insektsätare hoppar in och ut ur buskar och snår. För någon sekund stannade den faktiskt till i denna buske med blåa bär. Den utmärkande tofsen (den heter ju "tufted" på engelska) syns tydligt på bilden, men inte så väl det gula ögat (som gett den dess svenska namn). Den mycket svarta pupillen syns dock. Den här arten tycks mycket anpassningsbar. Den förekommer ända från södra Colombia, längs Anderna ner till Eldslandet; upp till trädgränsen på många håll och ner till havsnivå längst i söder.