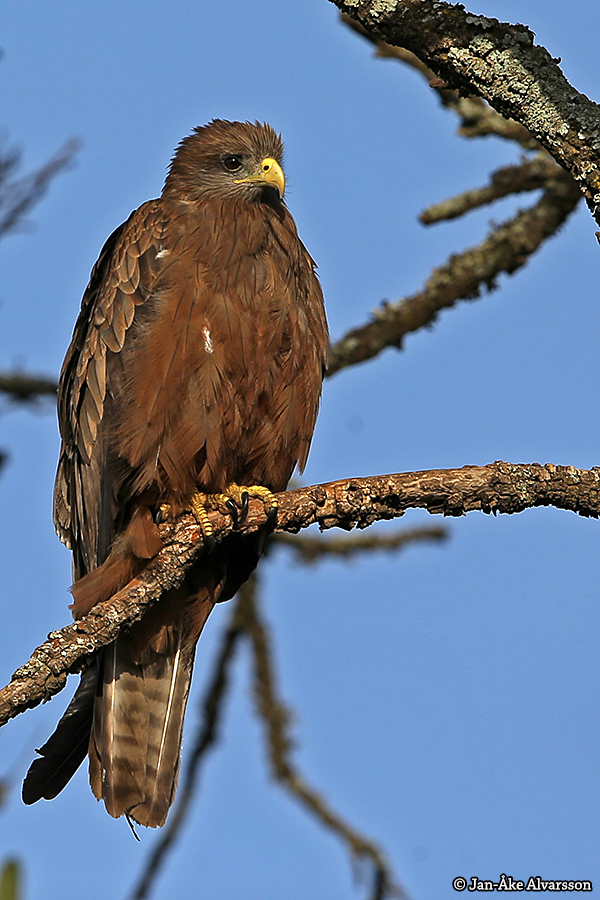 Milvus aegyptius
Yellow-billed kite / Gulnäbbad glada
The first raptor we encountered was a close relative of our own Brown kite, the Yellow-billed kite. IUCN does not yet recognize it as a separate species, but according to DNA analysis presented by Watson & Mindell (2005) it should be regarded as a separate species and has therefore received a new Latin name (Milvus aegyptius) instead of its old subspecies name (Milvus parasitus migrans).
Den första rovfågeln vi stötte på var en nära släkting till vår egen bruna glada, den 'gulnäbbade gladan'. IUCN erkänner den ännu inte som egen art, men enligt DNA-analyser som presenterats av Watson & Mindell (2005) skall den ses som en egen art och har därför fått ett nytt latinsk namn (Milvus aegyptius) i stället för sitt gamla underartsnamn (Milvus migrans parasitus).